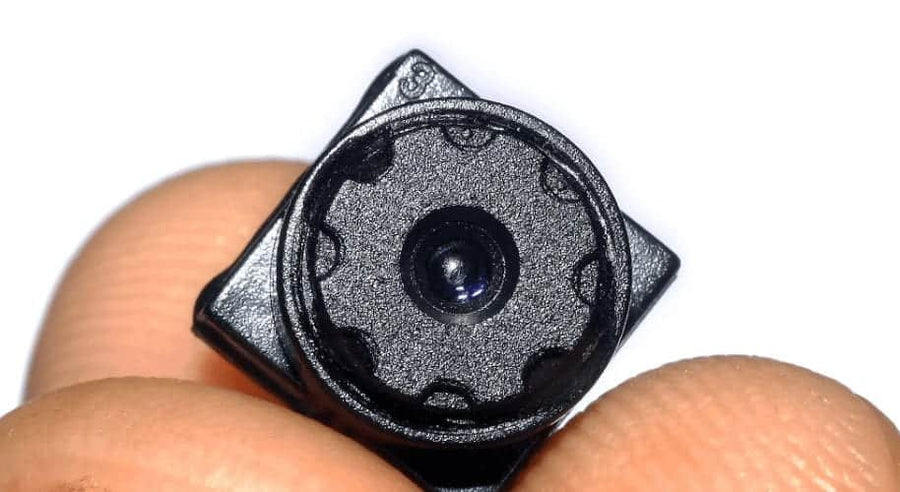 Best Mini Camera
Nowadays, cameras are becoming smaller and smaller, and with the rise of new technology, cameras are now found in everyday items. It's never been easier to take footage of something. If you're looking for a way to record in an ultra small package we have a list of the best cameras for you.here we will cover:
1. A list of the top many cameras available this year
2. A buyers guide so you make the right decision
3. Some helpful tips
Quick Summary Top List: 
Some of these links may contain affiliate links, our commissions from these links allow us to provide better content and grow as a site:
1. SS 1080P HD Mini Waterproof Camera"With a waterproof design and a long battery life the SS 1080P HD Mini is perfect for outdoor use."
2. SQ11 1080p Mini Camera"Great for small recording jobs and can be adapted to drones "
3. CUSFLYX Cloud Mini Camera"Get remote view through WiFi on this 1080p mini camera with 150 degrees wide angle view. "
4. Pofeite Mini Hidden Spy Camera"The Pofeite is the camera to go for when you need a camera to use in a dark environment, thanks to the combination of night vision and motion detection recording."
5. Blink Mini"The best mini camera available when it comes to wired recording"
Best For Out-door Use
Quick Summary
Resolution: 1920x1080p video / 4032x 3024p image
Battery:  3.7V 200mAh
Night Vision: Yes
Field of View: 150 degrees
Tiny, but packs a punch. The STS spy camera comes in at 25 x 24 x 24mm, making it one of the smallest on the market. Despite it's size, the camera provides smooth video quality at 1080p with 30 frames per second, and takes pictures with even higher resolution. All of this is of course captured on a wide angle of 150 degrees. The memory size is good enough for the average user, with expandable storage up to 32GB.
Equipped with motion detection, makes it having a good battery a must. With built-in 200mAh, you don't have to worry about missing any important footage.one of the things that really makes this camera stand out from the others is the fact that it comes with a waterproof chasis. this means that even if you're not planning to do any go pro like recording it does come with that functionality in case one day you do decide to go that route.
Also the waterproof functionality is great for being able to mount the camera outdoors and make sure that rain does not immobilize it. There may be other cameras in the market that are more suited for this direct task by this camera is the most multiuse that can be taken in and out of the house at a moments notice while still being incredibly small and concealable.
Another thing to mention is the night vision which allows you to record clear video even in some of the lowest light settings this is a great feature for having the motion detection turn on and record at night to conserve as much of the battery as possible.
WHAT WE LIKED
Very Tiny
Great Video/Image Quality
WHAT WE DIDN'T LIKE
Best For Multiuse
Quick Summary
Resolution: 1920x1080p video / 4032x 3024p image
Battery:  3.7V 200mAh
Night Vision: Yes
Field of View: 150 degrees
The SQ 11 is very similar to the STS waterproof model that we had listed as number one.
This camera comes in with an HD 1080 P video recording resolution which is full HD.It also comes with a very good motion detection system that make sure that whenever something enters your field of view it's going to turn on and start recording.
This is great for saving extra battery life and making sure that your camera doesn't die in the principal moments of recording.It also comes with some great night vision features to make sure that you still get that clear image even though the lights may be off.
One of the things to know that is the main difference between this and our number one model is the fact that it does not come with any waterproofing technology which means that if you do get this camera wet chances are that it may break on you.
Another thing to keep in mind when buying this camera is you can use the USB cable to have it consistently plugged in and recording.It does come with a small amount of memory which can be upgraded but you have to be prepared to purchase a memory card separately.
Overall this is a great entry-level model for the people that have a small budget and don't want to shell out for the more expensive feature-rich models this will serve them perfectly.
WHAT WE LIKED
Cheap
motion detection
night vision
WHAT WE DIDN'T LIKE
video quality could be better, you get what you pay for in this regard
Best for In-door Use
Quick Summary
Resolution: 1920x1080p video 
Battery:  450mAh
Night Vision: Yes
Field of View: 150 degrees
Warranty: 1 year
The Cusflyx cloud mini camera allows you to sacrifice quality for memory with it's switchable quality between 1080p and 720p. Although, it has expandable storage up to 128GB it doesn't take much to fill it up. The pairing between motion detection and night vision makes this camera perfect for every use. 
Supports remote watching for multiple users at once on Android, IOS and Windows. The camera also comes with a mount which makes catching the right angles very easy.
On top all of this, you also get 1 year warranty from the manufacturer.Another of the great features of this camera is that it comes with night vision including for F5 IR LEDs that provide some really great nightvision shots.
Also the camera comes with motion activation which can be turned on as soon as an object enters and this can greatly conserve the battery life.The camera also comes with a sticker and mounts back and let you stick the camera on any wall or hidden surface.
WHAT WE LIKED
Great Price

Up to 128GB expandable storage

Includes mount
WHAT WE DIDN'T LIKE
Known to have connectivity issues
Best for Low-light Recordings
Quick Summary
Resolution: 1920x1080p video 
Battery:  Built-in 250mah Battery
Night Vision: Yes
Field of View: 150 degrees
If you are looking for a spy camera capable of recording at night, the Pofeite spy camera is a great pick up. It has full HD capabilities while constantly recording at 30 FPS. This kind of quality is obtained even at night on distances up to 5 meters. Since we're talking about a night vision camera, having motion detection is crucial to catch movement and start surveillance.
Having WiFi enables the user to get access to a real time video feed.We want to be honest with our review and say this isn't the highest rated camera but it does offer the most features even though sometimes those features may have some issues it still the best bargain you can get.
So if you want to risk some possible design flaws in some random models but you want to get the best bang for your buck this is definitely the camera for you.Just a few of the features that this has that other cameras don't have include support for multi-camera viewing while Wi-Fi is enabled which means you can open a screen with multiple cameras and view from all different angles on a single monitor like a true security network.
WHAT WE LIKED
Magnetic back enables for easy placement
Great Design
WHAT WE DIDN'T LIKE
Poor documentation and instruction
Best Connected Batteryless
Quick Summary
Resolution: 1920x1080p video 
Battery: None
Night Vision: Yes
Field of View: 150 degrees
As Amazon continues to take over every facet of consumer goods the security sector has been no exception.
The blank many is a result of Amazon's purchase of the blank home security brand. Amazon has put together a security camera that integrates with its Alexa systems and packs some impressive features at an incredibly low price.
One of the things to keep in mind before we get started talking about the blank many is the fact that it is a wired many camera and does not come with any battery life so if your purpose here is to use it for small recordings or spy recordings this is definitely not the device for you.
Also it is not very small compared to the other models mentioned around here so hiding it is not really an option.If all of those things don't matter to you then the blank is a great option since it comes with a great night vision, motion detection and some interesting two-way audio features.
The set up on this camera is very easy and the apps and alerts can be set up to go directly to your smart phone when there is motion detected at any point of the day.You can also arm the device or live view anything that is happening with the device by using your voice and Alexa.This is definitely the best option for those that want to connect their smart home together.
WHAT WE LIKED
great integration with Alexa
quick set up
alerts on your smart phone when something happens or motion detection is triggered
WHAT WE DIDN'T LIKE
no battery you are relying on its connected voltage
reliance on Amazon software known for its security breaches
fairly large for a mini camera
Buyer Guide
when you're buying a mini camera there are some things you need to take into consideration to make sure you get the most model for your buck.
What is the camera going to be used for
One of the biggest things that you need to take into consideration is what will you be using the mini camera for. If you're going to use the mini camera for basic security and surveillance then you need a completely different model than what you would used for spying. For surveillance you're going to need a camera that has more features and is possibly connected to a power source so you do not need to consistently be changing out and recharging the battery.
Also if you're using it for surveillance you need to see if you're going to be using it outdoors or indoors because when you need an outdoor surveillance camera one of the biggest things you need to keep in mind is will it be waterproof because as soon a the rain comes your camera will become an expensive paperweights.
Spy camera use
For spy cameras one of the biggest things to keep in mind is how easily you can conceal the specific spy camera. If you get a camera that has a light on top of it or that is multiple colors this is completely going to ruin the point of purchasing camera in general. The best thing to look out for with spy cameras is a decent battery life, loop recording, and motion detection. These features will allow you to record before the camera runs out of battery and will allow you to conserve what ever it did record.
Night vision
this is an important feature for those people that want to leave the camera in a room in the house that is going to be completely dark. A lot of times when people enter a room or they are trying to do something without getting caught the lights are going to be turned off. For this specific instance a camera that has a lot of IR LEDs is very helpful these LEDs cannot be seen very easily during dark light settings by they do allow you to take decent footage during the night. Again one of the things to keep in mind is to make sure that the LEDs are not obvious or too bright when they are turned on
Motion Detection
this feature is amazing for conserving battery life. One of the biggest issues with many cameras is because they are so small they can't really store very much battery life within. In comes motion detection and auto activation recording once that motion is detected. The point of this is when a person or thing enters the camera's field of range and its visual area the camera will start recording immediately. Otherwise the camera would have been recording all day and destroyed the battery life almost immediately what this does is it sets it to a standby mode where it uses minimal battery life until someone or something enters the field of vision and then the recording begins.
Battery life
This is an obvious one but really needs to be kept in mind because a lot of the new cameras out there compromise on battery life for size. A lot of the time a battery life of up to 10 hours can be fine because of the other options that allow you to put the camera into standby mode while it's not being used but if you require the camera to be on at all times you might be better suited to a wired version because a lot of these mini cameras are not meant for this particular purpose.
Wi-Fi settings
When we talk about Wi-Fi one of the best benefits of this is being able to check on your camera when you are not in the house or away from it. Now this feature is better for a surveillance system but it's also fine for many cameras if you want to connect them and even do multi-camera connections with remote viewing. We don't completely recommend using this for cameras that are on a battery because the battery drain will be significant.
Waterproof
An interesting feature for those that want to mount their camera outdoors waterproofing is great.
Wrapping up
whatever camera you choose make sure you know the purpose you needed for so you don't end up returning it and make sure that you get one that you are happy with and comfortable with. There are a lot of legalities when recording so were not going to go into that exact subject but also keep an eye on what exactly you're going to be using the camera for and is there consents.