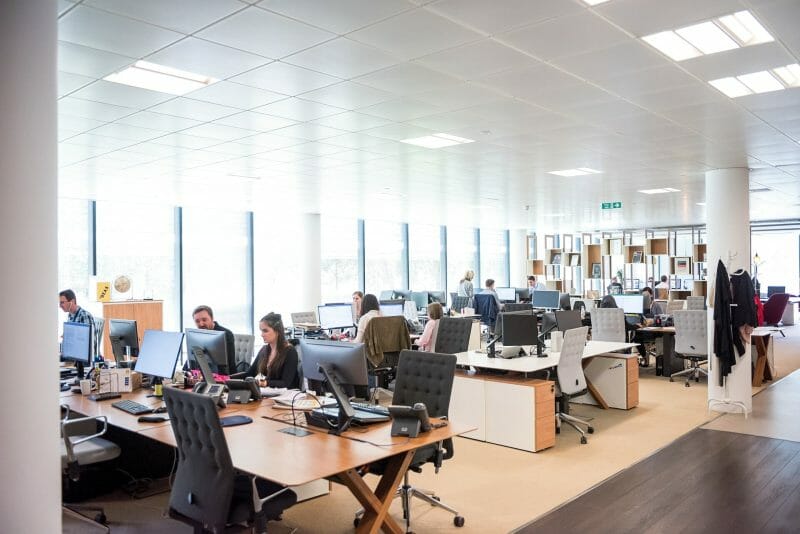 Are Hidden Cameras Legal in the Workplace?
Surveillance cameras are a great way to supervise security and employees in a workspace. Before installing hidden cameras in the workplace, one needs to know the legal restrictions and requirements. 
In general, hidden cameras are illegal to place in the workplace without consent. One cannot place cameras where privacy is expected (i.e., in washrooms) or record conversations or calls.
In California, Connecticut, Florida, Illinois, Maryland, Massachusetts, Montana, Nevada, New Hampshire, Pennsylvania, and Washington, both parties must consent if an audio recording is needed.
The states of Arkansas, California, Georgia, and Hawaii prohibit hidden cameras, regardless of consent.
I'll go into more detail below.
Hidden Cameras vs. Video Surveillance
Before explaining the regulations and limits, I should clarify the difference between "hidden cameras" and "video surveillance."
Hidden cameras cannot be seen in a room, and it can be considered illegal to be placed in some states.
Video surveillance is visible in a room. Their placement is generally legal but with limitations.
Hidden Cameras Regulations
Laws about hidden cameras differ in several states.
If an employer has received consent from all employees to install hidden cameras, they can proceed with their placing in the following states:
Tennessee
Delaware
Kansas
Maine
Michigan
South Dakota
New Hampshire
Utah
Regardless of consent, installing a hidden camera is illegal in the following states:
Arkansas
California
Georgia
Hawaii
An employer doesn't need consent to install hidden surveillance cameras in Florida, Minnesota, and Alabama.
Video Surveillance Regulations
Before applying any surveillance cameras or kit, one must consider all constraints stated by Federal Law.
1. Employers Have to Notify All Employees About the Installation of Cameras
Some states require all employers to have all staff members sign a written consent or a receipt of the notice:
Hawaii
Delaware
Kansas
Maine
Michigan
New Hampshire
South Dakota
Utah
Tennessee
Other states declare that it is not necessary to mention it to the personnel:
Alabama
California
Florida
Georgia
Minnesota
2. The Installation of Cameras Should Be in Shared Spaces
Generally, the following states declare that locations with video surveillance should be in public rooms.
Hawaii
Delaware
Kansas
Maine
Michigan
New Hampshire
South Dakota
Utah
Tennessee
Arkansas
Alabama
California
Florida
Georgia
Minnesota
Those could be:
Retail stores
Storage rooms
Grocery stores aisles and exits
Bank counters
3. One Should Have Legitimate Reasons for Installing a Surveillance Kit

Video | BBC Click
If an employer suspects harassment in the work environment, they can install a camera. That is also possible if they fear that the staff members do not complete the requirements of their role in the company.
There is always the possibility of things going missing within a company. Installing a surveillance camera can protect those items and potentially sensitive information about the business.
Installing a video surveillance kit can prevent shoplifting or unauthorized trespassing of a third party.
In robbery cases, with the help of a hidden camera, police can identify a burglar. Employers can also secure their personnel from abusive customers or other employees.
Illegal Cases
If an employer's decision does not meet the above conditions, it may be considered illegal. Some additional events can make such a decision illegal.
1. Surveillance Camera Location
There are locations in a workplace where employees' privacy is expected, such as:
Restrooms
Locker rooms
Lounges or break rooms
In such rooms, hidden video surveillance, especially without consent, is highly forbidden.
The states of Alabama, Utah, and Minnesota do not allow video surveillance in private spaces.
The states of Arkansas, California, Georgia, Hawaii, Michigan, Tennessee, and Utah only allow surveillance in private rooms if all personnel consent to the installation.
A small note: One cannot always expect privacy in lounges and break rooms. That depends on the enterprise's regulations.
2. Not Informing the Employees
As said above, not all states require an employer to inform their staff about implementing hidden cameras:
Alabama
Florida
Minnesota
Regardless, if employees feel that their privacy is violated, they can proceed with a lawsuit. The case can severely damage the company's reputation if they present reasonable evidence.
Thus, offering the personnel a consent paper or written notice is reasonable.
Note that a consent paper means an employee agrees to know about implemented hidden cameras. At the same time, the receipt of notice means that the employee solely acknowledges the existence of cameras but does not necessarily agree with the policy.
3. To Create a Hostile Environment
It is considered illegal for an employer to use surveillance cameras to harass or blackmail staff members.
An employee-friendly work environment is reasonable for the personnel, and every employer should secure it.
4. Audio Recordings
Recording audio is typically considered illegal, especially for private calls or conversations.
In 39 states, it is legal if one of the parties in the conversation agrees to the audiovisual recording:
Alabama
Alaska
Arizona
Arkansas
Colorado
Delaware
Georgia
Hawaii
Idaho
Indiana
Iowa
Kansas
Kentucky
Louisiana
Maine
Michigan
Minnesota
Mississippi
Missouri
Nebraska
New Jersey
New Mexico
New York
North Carolina
North Dakota
Ohio
Oklahoma
Oregon
Rhode Island
South Carolina
South Dakota
Tennessee
Texas
Utah
Vermont
Virginia
West Virginia
Wisconsin
Wyoming
In the other 11 states, all parties need to consent:
California
Connecticut
Florida
Illinois
Maryland
Massachusetts
Montana
Nevada
New Hampshire
Pennsylvania
Washington
The state of California strictly prohibits audio recording during confidential calls.
Yet, audio recordings can be considered a privacy violation since they can also serve as harassment.
National Labour Relations Act
The National Labour Relations Act (NLRA) is a law that protects the freedom of all workers in private-sector industries or companies.
According to the rulings, an employer is prohibited from recording any meetings or conversations of the union in any state. The same applies to recordings of marching and protest organizing.
Additionally, any potential footage cannot be used as harassment or threat.
Electronic Communications Privacy Act
The Electronic Communications Privacy Act (ECPA) is a federal law that protects all kinds of communications between US citizens.
On the hidden cameras' and audio recordings' note, the ECPA restricts employers from listening to and recording personal calls or other electronic communications in any state.
Special Cases
The information above refers to general cases. Yet, there are some exceptions.
1. Recording Data
In general terms, it is prohibited to record personal data.
Nevertheless, in cases such as hospitals, it is inevitable for a video surveillance system to record private information (i.e., medical data, social security numbers, etc.). In similar circumstances, a corporation has to take measures to protect that type of detail.
Confidentiality measures are crucial for protecting employees, customers, and clients.
2. Business Calls
The ECPA, while protecting electronic communications, allows the employer to monitor business calls.
However, it is banned to record said calls in any case.
The law specifically refers to business calls, not employees' personal calls.
Wrapping Up
Hidden cameras are legal to install in the workplace.
It is important to have legitimate reasons to install them. One needs to place it in areas where the employees do not require privacy. It is also essential for the cameras not to have microphones.
Each state has distinct details regarding such laws, so checking each province's legislation before installing a camera would be wise.


References
Electronic Communications Privacy Act of 1986 (ECPA) - Bureau of Justice Assistance, from the link: https://bja.ojp.gov/program/it/privacy-civil-liberties/authorities/statutes/1285
National Labor Relations Act - National Labor Relations Board, from the link: https://www.nlrb.gov/about-nlrb/rights-we-protect/the-law
Do Employers Have To Inform Employees Of Cameras In The Office?, from the link: https://opensourcedworkplace.com/news/do-employers-have-to-inform-employees-of-cameras-in-the-office
Caught on Camera: Security Camera Laws in the U.S. - Deep Sentinel, from the link: https://www.deepsentinel.com/blogs/home-security/security-camera-laws/
What is GDPR, the EU's new data protection law? - GDPR.EU, from the link: https://gdpr.eu/what-is-gdpr/
Video References
BBC Click